About this course
Inclusivity and Nature: The Intersection of Eco Arts-Based Psychosocial Practices and the Environment
Join us online or in person for the second instalment of our thought-provoking research seminar series, 'Arts Therapy: Beyond Crisis.' This collaborative venture between the CNWL NHS Foundation Trust International Centre for Arts Psychotherapies Training and Brunel University continues to push boundaries. Mark your calendars for Tuesday, 21st November, from 5:45pm to 8:45pm.
Building upon the success of our previous event, this seminar explores our interaction with ecologies. Our central theme, "Inclusivity and Nature: The Intersection of Eco Arts-Based Psychosocial Practices and the Environment," promises to engage your curiousity. Featuring three distinguished presenters, this evening promises to offer insights into how arts are being used to facilitate new relationships with nature. Don't miss this opportunity to engage with cutting-edge ideas at the intersection of arts, therapy, and the environment.
Structure of the Day
5:45pm-6:00pm: Welcome refreshments
6:00pm-6:15pm: Exploring the Role of Arts-Based Practitioners in Shaping an Eco-Conscious Future– Dominik Havsteen-Franklin
6:15pm-7:15pm: In-person presentations by Diane Eagles and Cady Stone on "Environmental Art Therapy: Engaging with the Environment."
7:15pm-7:30pm: A brief 15-minute break to refresh and recharge.
7:30pm-8:30pm: Online presentation and workshop by Marlize Swanepoel, titled "Lessons from the Bees: A Global South perspective on culturally-informed arts-based psychosocial practices."
8:30-8:45pm: Reflections, closure and thanks
---
Zoom (link to follow)/Face to face hybrid event
CNWL NHS Trust Headquarters (1st Floor)
350 Euston Road,
London NW1 3AX
Setting
Hybrid (in-person/virtual)
Profession
Allied health

Psychological

Any Health Care Professional
The trainer
Stetement by Prof. Havsteen-Franklin
We find ourselves in an era where our actions, often unconscious and gradually imperceptible, have contributed to conditions that threaten not just numerous species but also our own. Our perception has expanded from the grandeur of nature to encompass entire populations, emphasising the intricate link between the local and the global, challenging our sense of personal "response-ability."
Amidst this complexity, the arts offer a distinctive avenue. They enable us to connect with the qualities of things, cultivating a deep awareness of our role within intricate ecological compositions. The arts unveil the inseparability of nature and culture, revealing our place within a dynamic corporality. Eco arts therapies, viewed from this perspective, decentre the human experience, blurring the lines between human and the non-human. This perspective challenges our anthropocentric worldview, motioning us to engage with other lives, other times, and other worlds. Embracing nature in this manner entails venturing into uncharted territory, broadening our consciousness, fostering compassion, affection, and deepening our appreciation. However, such changes in action and mindset are mobilised within complex contexts. Arts therapists within the NHS and community environments are integral parts of vast assemblages, driving both visible and less visible transformations, shaping emotions, physical surroundings, and fostering experiences of well-being.
Inclusivity and Nature: Eco Arts Based Psychosocial Practices
In these seminars and workshops, we will ask, how can arts-based practitioners contribute to this transformative journey towards a more interconnected and eco-conscious future?
Presenters
Cady Stone – Artist and Peer Support Worker

Diane Eagles

– Art Psychotherapist
Marlize Swanepoel

– Dramatherapist
Seminar Chairs
Prof. Havsteen-Franklin – Consultant in Arts Psychotherapies and Professor of Practice
Jenni de Knoop – Dance Movement Psychotherapist
Cady Stone
Mixed Media and Fine Art Graduate
Artist, NHS Service User Representative with Lived Experience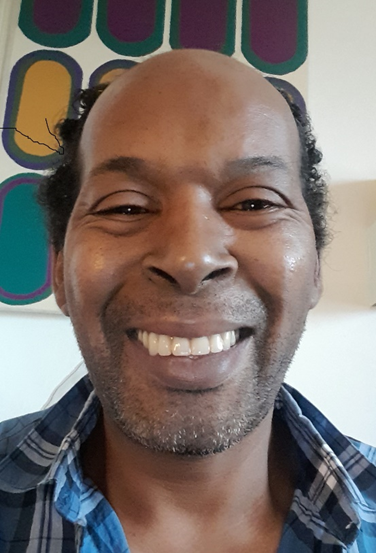 Cady Stone is a 50-year-old black gay man. He lives with his carer mum in K&C. He has a long-term mental illness called Schizophrenia. In 2017 he graduated from a BA (hons) degree in Mixed Media and Fine Art at the University of Westminster (Harrow). Since then, he has taken up three jobs. One as a Friday Evening Support Assistant at the charity Stuart Low Trust, in Islington. The second as an NHS Service User Representative, attending board meetings and events, campaigning for better mental health. The third as a weekend volunteer at the Estorick Collection of Modern Italian Art Museum. In his spare time, he likes reading books on Art and Culture, listening to music, painting on canvas and regular exercising at his local gym. At a times when he feels loneliness and isolation, he has family and friends to support him to live a fruitful and meaningful life.
Diane Eagles
Art Psychotherapist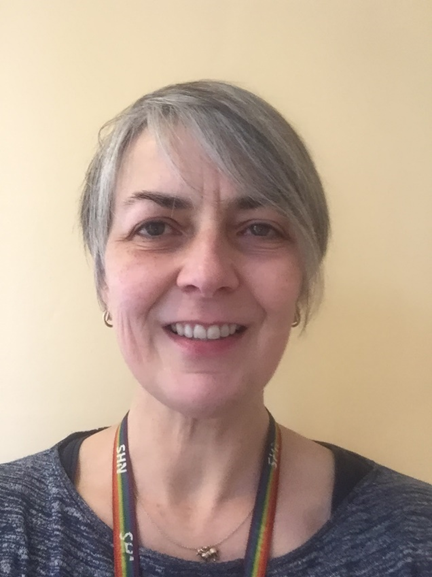 Diane Eagles is an artist and Art Psychotherapist with 30 years' experience. She has worked for Central North West London NHS Trust for most of this time, managing the Older Adult Arts Psychotherapies service as well as working in adult psychotherapy outpatients and male Psychiatric Intensive Care. She has contributed to the International Centre for Arts Psychotherapy Training, ICAPT, since its inception. She is a visiting lecturer and tutor for Roehampton University and The Institute for Arts in Therapy and Education, IATE. She was co producer of the Adaptation of Dynamic Interpersonal Therapy for Arts Psychotherapy A-DIT.
Diane is currently studying for an MA in Contemporary Art and Archaeology at the University of The Highlands and Islands.

Presentation – Pilot Environmental Art Therapy (EAT) Group
Diane and Cady's presentation will give an overview of a pilot Environmental Art Therapy (EAT) group which ran for six weeks. The talk will cover the set up and structure of the sessions and present findings using the feedback given by the peer support worker, group attendees. The talk will conclude with some reflections and a discussion about EAT and environmentally conscious working in arts psychotherapy mental Health services. Diane and Cady will bring in some introductory thinking to the wider themes of this programme by presenting ontological theory.
Marlize Swanepoel
Dramatherapist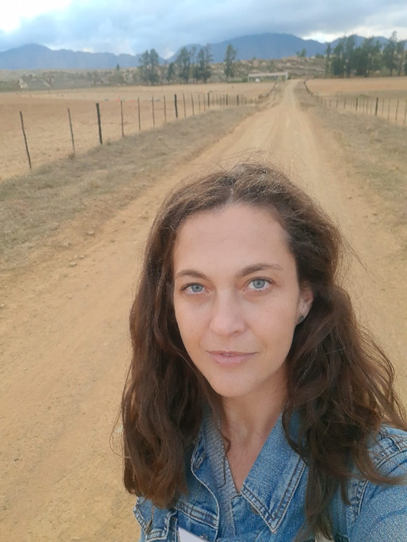 Marlize Swanepoel is a Dramatherapist and the founding director of sp(i)eel arts therapies collective, an NPO that addresses intergenerational trauma and co-create community-based models of mental health care that are culturally-informed and relevant to the South African context. She serves on the Secretariat of the South African National Arts Therapies Association (SANATA) and is a guest lecturer and examiner at the University of Cape Town. She is an enthusiastic advocate for the Arts for Health movement in South Africa that speaks to healthcare from a global South perspective. She loves being in spaces of learning, unlearning and dancing.
Workshop – Lessons from the Bees: A Global South Perspective on culturally-informed arts-based psychosocial practices. This experiential presentation will look at the close relationship with nature that is found in rural South African agricultural communities, and how this is supporting their mental health and wellbeing. Based on the practice of an NGO who had been active in these settings for the past eight years, the workshop will offer practical tools for any practitioner who is interested in embodied, nature-based and culturally-informed practices. Participants are invited to bring an image from nature (it can be in digital format on any electronic device), as well as basic art materials and paper to the workshop.

Prof. Dominik Havsteen-Franklin
Consultant in Arts Psychotherapies
(Seminar Chair)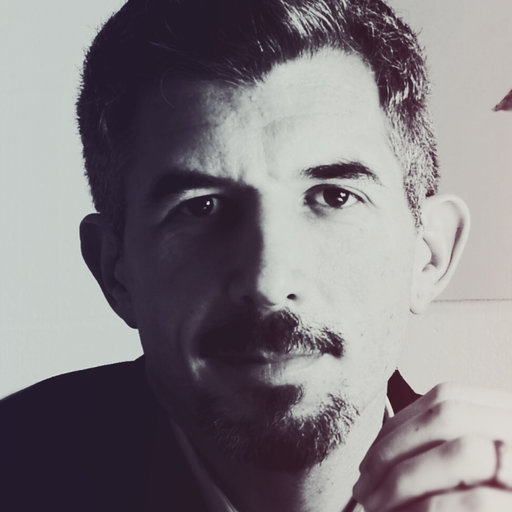 Dominik Havsteen-Franklin (b. 1972) is a British Art Therapist and Clinical Academic of international acclaim, known for his pioneering work in the areas of arts and health. With a dedication to exploring and advancing innovative models of arts-based intervention, he investigates the transformative potential of body movement, musicality, and visual image making within healthcare and public domains.

Presently holding the position of Professor of Practice in Arts Therapies at Brunel University London, Dominik is instrumental in developing arts-based therapeutic practices. In addition, he serves as a Consultant in Arts Psychotherapies for CNWL NHS Foundation Trust. A founding member and Vice President for the European Federation of Art Therapy, Dominik's leadership extends beyond borders, fostering a collaborative and dynamic interdisciplinary terrain for art therapy on an international scale.

Recent Publications
Huss, E., Havsteen-Franklin, D., (2023). Developing a theory of social art therapy: Insights from the context of crisis. The Arts in Psychotherapy, 85, 102066.
Havsteen-Franklin, D., de Knoop, J., Agtarap, T., Hackett, S., & Haeyen, S. (2023). Evaluation of an arts therapies approach to team development for non-acute healthcare teams in low control and high-pressure environments. The Arts in Psychotherapy, 83, 102003.
Havsteen-Franklin, D., Cooper, J., & Anas, S. (2023). Developing a logic model to support creative education and wellbeing in higher education. Cogent Education, 10(1), 2214877.
Jenni de Knoop
Dance Movement Psychotherapist
(Co-Chair)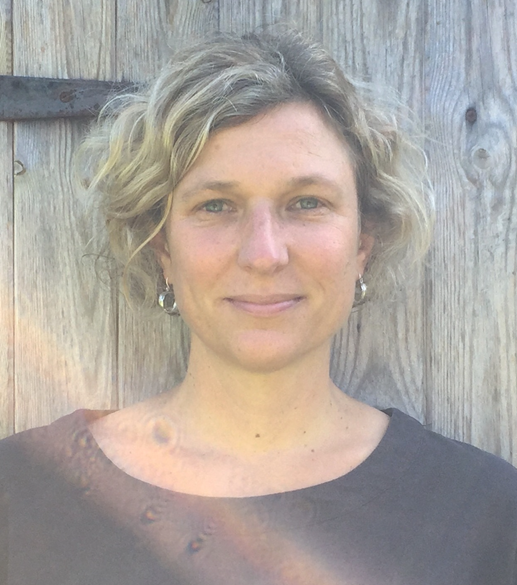 Jenni is a dance movement psychotherapist, UKCP, ADMP, working for CNWL NHS Foundation Trust as a clinician in adult psychiatric rehabilitation and as the practice lead for the CaRE Project (creative team development) and the International Centre for Arts Psychotherapies Training (ICAPT) training and development lead. Jenni is a visiting lecturer at the University of Roehampton on the Dance Movement Psychotherapy Masters programme and works in private practice and as a clinical supervisor and reflective practice facilitator. Jenni is passionate about enabling people to inhabit their unique bodies with creativity, respect and compassion and in supporting teams to work better together.